☆ In Memory ☆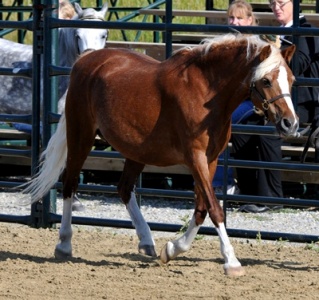 PROVINCIAL CHAMPION


1991 11.3HH Chestnut Sabino Section A Welsh Mountain Pony Mare
This gorgeous, flashy pony arrived in Canada from the U.S.A. in early May 2006. We are excited to have found a pony related to Joy, our first Section A Mountain Pony. Rose is Joy's aunt, and comes from the same old Welsh bloodlines, that include Bengad and Liseter.
We would also like to thank Tracy Dopko of Daventry Farms for helping us in our purchase of Rose. This special pony was partnered with Megan this year at the Welsh shows in Alberta and walked away with many ribbons and Championships. We are excited to have such a wonderful addition to our Welsh family, and look forward to many great things from Rose in the next few years.
Click to see
Rose's Show Record
Bengad Dombeya
*Bengad Nepeta
Sinton Solomon
Coed Coch Nico
Bengad Dianthus
Treharne Simon
Glenfield Dawn
Young's Happy Moment
Liseter Star Design
Liseter Shooting Star
Clan Chic
Young's Cameo
Silverstone Commando
Young's First Joy
IN MEMORY OF FOOTHILL'S PRIDE AND JOY
May 14, 1999 – March 16th, 2006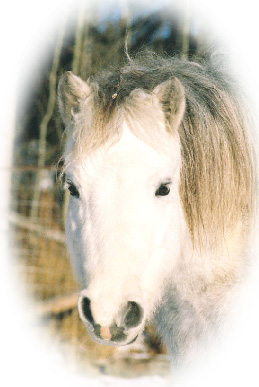 It is with a very sad heart that we announce the sudden, tragic passing of our beloved pony, Joy. On March 16, 2006 while returning home from vacation, we were pulling our horse trailer with our 2 young cobs and Joy. A car crashed into us on the highway, causing significant damage to our 1-ton pick-up, and demolished our horse trailer. While the cobs survived the crash with minor stiffness, Joy suffered a fractured spine and ultimately had to be euthanized at the scene.
Joy will forever be remembered by all of our family and friends, but mostly by her real owner and rider, Megan. The love and bond Joy and Megan shared was witnessed by all at the accident scene when Megan said good-bye to her dearest friend. Joy responded to Megan in a way that left no doubt that Joy absolutely loved Megan.
We were further devastated at the loss of the foal Joy was carrying, that was due in just 3 months time. We take some peace in Megan's belief that Joy is somewhere in pony heaven, running free and looking after all the foals up there without moms. Joy was a very special friend to many children. Her kind and gentle manner will be missed.
We love you Joy, and hope you are enjoying the blissful, lush green pastures with no chance of injury and illness. We wish you and your foal well, and know you are in good company in that peaceful place.


1999 11.3HH Grey Section A Welsh Mountain Pony Mare
Joy is out of the famous Bengad and Liseter bloodlines. She is a beautiful grey mare, and a wonderful children's mount. Joy was shown throughout the summer, and helped her young riders win many ribbons in everything from halter to english flat classes to hunter pony. Joy has been ridden by many children in summer camps, and is a favourite pony for many.
Click to see
Joy's Show Record
Young's Northern Pride
Liseter Star Design
Liseter Shooting Star
Clan Chic
Young's Cameo
Silverstone Commando
Young's First Joy
Young's Precious Moment
Bengad Dombeya
Bengad Nepeta
Bengad Dianthus
Young's Happy Moment
Liseter Star Deisgn
Young's Cameo
IN MEMORY OF DT FASCINATION SPRING SURPRISE
April 24, 2005 – May 5, 2006
Following the recent highway accident that resulted in the death of our Section A pony, Foothills Pride and Joy and her unborn foal, we have had to also euthanize our yearling Section D cob gelding, DT Fascination Spring Surprise. Immediately following the accident 'Spring' showed stiffness and soreness as expected. He seemed to be recovering very well.
For the first several weeks following this accident, Spring was able to move well with no noticeably signs of injury. After 6 weeks time, Spring began exhibiting very minor neurological problems, such as an inability to stand square on his front feet, and general frustration and dislike of being haltered. This progressed to increasing stumbling, and a toeing out of his right front leg. Within a few days of the increasing problems, Spring was assessed by two veterinarians, who agreed that the neck fracture had damaged his spinal cord, and there was nothing that could be done to heal Spring. By this point, Spring was unable to balance, and was unsafe to walk near, as he was losing his balance frequently. Spring was barely able to get to his feet when lying down, and could not walk a straight line. Spring was not able to trot without tripping, and falling had become a very real hazard for him.
We cannot describe the sadness we have felt at this new loss. Spring was truly the nicest tempered horse I have seen. He was easy to train, friendly, brave and possessed all the best qualities that the Welsh are known for. Spring was young, but very careful around our young kids, and truly loved the attention he received from all members of our family.
We are comforted by the knowledge that he joins his 'adopted mom', Foothills Pride and Joy, and the two will enjoy their lazy days above in peace and good health.



2005 Bay Section D Welsh Cob Gelding
Spring is a gorgeous, strapping young bay gelding with a wonderful personality. He leads, ties, walks, trots and backs in halter for children. Spring spent his first summer with a camp program, where he was handled daily by children. Spring has the bone, type and substance the welsh cobs are known for. He was a Grand Champion colt this summer on the line, and has been trailered, stalled and competed successfully. Spring is expected to finish over 15 HH, as both dam and sire are 15.2 HH.
Click to see
Spring's Show Record
Penrhyn Fascination
Okeden Sensation
Parc Sir Ivor
Okeden Gorse
Llanarth Meleri
Llanarth True Briton
LlanarthMarina
Foothill's Ruby
Wyvere Double Diamond
Winterlake Alexander
Madoc Katie Scarlett
Menai Clasur
Lynfi Erin
Menai Cwmpeini