☆ News ☆
October 1, 2013
Please check our Sales Page!!
Woodwinds Shadowfax, DT Mr. Snaps, and DT Snapshot are all available for purchase to approved homes only. Updated photos and video to be posted shortly!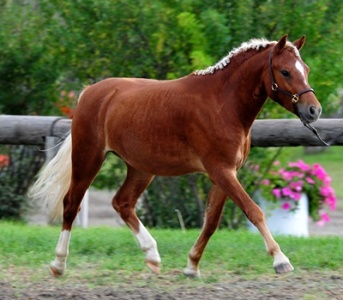 September 30, 2013
Exciting news! DreamTime Welsh was provided with the opportunity to have Goldhills Toffee inspected for entry into the Mare Book for the Oldenburg GOV (Weser-Ems) and ISR/Oldenburg (Sport Pony Division).
For those who are unfamiliar with this, you "present" your mare in-hand for inspectors from Germany to asses and decide if their respective organization will accept your horse or pony as a registered broodmare. Toffee was amazing, being accepted into both registries (just missing out on the "Premium" book). So very proud of our girl Toffee!
The sire of DT Mr. Snaps and DT Snapshot, and Goldhills Toffee's half-brother, Goldhills Brandysnap, was also inspected. He received a premium stallion status! The best news - Goldhills Brandysnap, was scheduled to return home to California. He is now very proudly owned by our friends at Daventry Equestrian, and will continue to stand at stud there. Check out this amazing stallion at: www.goldhillsbrandysnap.com
Continuing with our busy equestrian summer, the end of August had us in Calgary, Alberta, with DT Mr. Snaps and DT Snapshot for the Stars of the West Sport Pony Finals. These championships were held at the beautiful Anderson Ranch, home of Rocky Mountain Show Jumping, literally just down the road from Spruce Meadows.
Once again our great friends from Daventry Equestrian were present with their amazing show string. DT Mr. Snaps was 3rd in his group, while DT Snapshot placed 1st in his 2 year old division, making it to the final round where he was 4th overall. An amazing finish for both ponies!
September started with a continuation of training for Goldhills Toffee. She competed in the Gorsline Fall Classic Jumper show in the beginner 2'0" jumpers. In her first class of 13 she had a clear round, placing her in 5th. An impressive start in a big arena with very colorful, bright fall themed jumps. In Toffee's second round she went clear, but with much bigger, experienced horses in her class she finished just outside the ribbons. Toffee's third class went very smoothly, with an unfortunate rail over a skinny vertical.
As the end of September approaches DreamTime Equestrian has one final show. Goldhills Toffee with rider Angela in both the 2'3" hunters and the 2'3" jumper divisions, as well as Megan Cooper with Incandescent Dreams competing in the 2'3" hunters. Good luck to all competitors!
August 12, 2013
2013 has been a busy year at DreamTime. Instead of repeating the shows of the past several years, we took a step back, and reset our goals for this year. What a phenomenally great decision that turned out to be! This year we decreased our showing on the Welsh circuit, and invested the time and money into training ponies and riders.
The first big change is Toffee went out for what started as a 30 day refresher, under saddle with Judi Gorsline (trainer) and Angela Jones (rider). Toffee's progression was simply amazing. Keeping things fresh and exciting, and realizing Toffee's hidden love of jumping, Toffee's under saddle refresher evolved into training and competing in the Amberlea Meadows A circuit "Jump with Hope for Kids with Cancer" in the 2'0" and 2'3" hunter divisions. First time out, under saddle and first time jumping with rider Angela Jones aboard, Toffee won the 2'0" hunter division Championship. We could not have asked for a better first show, with a mere 3 months of training.
The second change was the leasing of a gorgeous Thoroughbred gelding "Incandescent Dreams" (Inky) for Megan to ride. The experienced gelding allowed Megan to make her first appearance in the Hunter Jumper A circuit, also at Amberlea Meadows "Jump with Hope for Kids with Cancer". Together Megan and Inky placed in all classes entered in the 2'3" hunter divisions. On the final day they won a gorgeous cooler in the 0.7m Very Novice Rider Hunter Classic. A great finish to an amazing 4-day show.
The final big riding change was the completion of Sean's first year of riding. He is now jumping small cross pole and 2' courses. With the realization he would really like to compete next year, we will be searching for the "perfect fit" horse or pony to help Sean reach his goals.
With all the changes in training this year, we did attend several shows. In July we made the trek to Bluffton, Alberta to Double W Ranch, where DT Mr. Snaps and DT Snapshot qualified in the in-hand Sport Pony classes to go to Stars of the West Sport Pony Finals at Anderson Ranch. The day started and ended with beautiful weather. However, at show time we had one of the worst downpours I have ever seen. The Sport Pony classes were moved indoors, much to the relief of the judge and competitors!
The August long- weekend was spent at the Amberlea Meadows "Jump with Hope for Kids with Cancer" Competition. This show is close to home with the loss a parent to cancer in the past few years, and having a nephew successfully battle cancer a year ago, how could you not love a horse show that helps with cancer research! With Angela Jones aboard Goldhills Toffee and Megan Cooper on Incandescent Dreams having such an incredible results, it was a weekend to remember.
The weekend of August 10-12, DT Mr. Snaps and DT Snapshot attended the Wild Rose Welsh Show in Red Deer. Both did very well in their respective halter classes. Results are posted on their respective show results page. Our very good friends at Daventry Farms were also present at this show, a huge thank you to Tracy Dopko, who assisted with the showing of our ponies. Also thank you to Megan and Sean Cooper, as well as the amazing Katie Golka, all of whom were huge helpers at this show.
March 4, 2012
Our sincere apologies for the lateness of our updates. This has been an incredibly busy year for DreamTime Welsh. The lack of entries is certainly not indicative of how busy things have been on the farm! To catch you up on the details of the past several months, here is all the details!
June 6, 2011 started out with quite a surprise at DreamTime Welsh – a new arrival! "Jake" is a beautiful chestnut colt out of our mare Young's Arrest That Flirt. This final foal by "Rose" is a stunning boy, with breathtaking movement, and a personality you always dream of producing. This colt is a full-brother to our gelding DT Mr. Snaps, by the fabulous Goldhills Brandysnap.
"Jake" will be out showing this year, so watch for his show results! 2011 was a very busy year for DreamTime Welsh! With the arrival of our new Section C Welsh Cob colt Jake, we had to make some decisions on who to show as not all the ponies could fit in the trailer. The difficult decision was reached that the girls would have the show season off, and all the boys would make the trips out to the Welsh Shows. Casper spent a few months before the show season started in lessons with Megan after taking the winter off. With a new trainer, Megan and Casper were ready to hit the ring in July. Happy with the progress Megan and Casper were making, we decided that DT Mr. Snaps (Flash) would also make the trip into the show ring. We have been very pleased with the easy trainability Flash has shown, and he is truly proving to be a pony with a personality that will allow him to excel in the show ring as a future child performance pony. The final decision was to take our latest arrival DT Snapshot (Jake) out to show. This very promising, striking colt would wait out the first show to allow for a little more size before making his debut in the show ring.
The first show of the season for DreamTime Welsh was the always fun "Didsbury Light Horse Show". Since we had decided to leave DT Snapshot (Jake) home for the first show, it was a very welcome break for us to have just 2 ponies to work with.
Casper was absolutely superb at this show! The first day Casper entertained Tammy with a few fantastic rides in large classes with great placings! Casper performed wonderfully with Tammy which was all the more impressive since she had only ridden twice in the past year! But the real stars for the weekend were Megan and Casper. In all the flat classes, Casper was wonderful on the flat, and it was apparent the new trainer and hours of practice and preparation were paying off for Megan and Casper who had a very impressive weekend together!
DT Mr. Snaps (Flash) showed in halter. As a yearling, this was a tremendously busy place for Flash, who handled the heavy winds, large number of horses, flapping sheets, loudspeakers, spectators and million other unusual activities in stride. Flash trotted out beautifully when asked, and did a solid job showing against the mature welsh in one class, and the much heavier looking quarter horses in the second class. This is one pony that has the hallmarks of a future performance champion extraordinaire!
August is a very busy month for Welsh ponies in Alberta, as two major welsh shows occur back-to-back. The first show is the long-standing pony show in Cochrane, Alberta. This show is always very well organized, and a ton of fun to attend. This was the first show that we competed all three of our boys.
Cochrane is the only Welsh show this year to offer hunter classes, something very near and dear to Woodwind's Shadowfax (Casper)'s heart. Throughout the flat classes, Casper placed very well in all of his classes. It was very easy for all to see, this pony lives to jump. In the 18" hunters, Casper did all three courses on stride, in style, and with an obvious love of the sport. Megan and Casper were first in 2 courses, 3rd in one, and won the overall division. We could not be happier with how both Megan and Casper performed this weekend!
DT Mr. Snaps (Flash) competed in halter and sport pony. Flash did a fantastic job in the ring, placing very well throughout the weekend. Flash was shown by our good friend Dalyce in his classes. Flash had not been handled or shown by a stranger before, but he did a great job trotting out nicely for Dalyce when she asked. He stood extremely well during his classes, which we thought was a great job for a yearling that would rather run and play!
The real surprise for the weekend was DT Snapshot (Jake). We brought Young's Arrest That Flirt (Rose) – Jake's mom with us. Megan and Rose trotted out making it very easy for Jake to show off. And ... show off he did! We have been waiting to see this colt move, as all he does at home is gallop and crow hop. When this boy went to work and trotted out, you could see that he has that innate sense of "look at me"!!! His movement is quite different from big brother Flash, and quite breathtaking to watch. Jake did a stellar job all weekend, making it into the final rounds of every class he entered. This is going to be one pony to watch for down the road in the show ring!
While at Cochrane, we found ourselves with extra time and an empty ring. Given the beautiful weather, location and opportunity, we decided to take a few minutes with Flash and then Jake to video them in the arena. Watch for the upcoming results, it is great footage!
Red Deer Pony Show
Immediately following the Cochrane Show was the Red Deer pony show. There was not a lot of down time between the two shows, but all the ponies handled this like old pros. Once again, Megan and Casper had a very solid show, with great results in the many flat classes they competed in. This is going to be a great pairing in the next few years as Megan and Casper grow and learn together. Competing against the senior riders in some classes, Megan placed well in all, even winning a few of them! Way to go Megan, we are so proud of both you and Casper!
The one issue we had going into the Red Deer show was a critical shortage of handlers. We made the decision to 'promote' Megan and younger brother Sean. Flash has a very natural love of Megan, and seems to love to do anything she asks him to do. Given he is a yearling, and Megan is very small, we were a little leery of her showing him in halter classes. But, as they say, necessity is the mother of invention, so off they went. Flash showed better for Megan than anyone else that has handled him! His behaviour, movement and attitude were downright mind blowing! We video-taped Megan showing Flash, as we figured you really need to see this pony in action with his young handler to believe it, so watch for that updated footage!
Since DT Snapshot was just 2 months old for this show, and that we were competing back-to-back weekends, we decided to again show Jake with Rose in the ring. Needing a second handler, and knowing Megan was already busy with Flash, the youngest DreamTime family member was called to service. Sean is one of those kids that animals are naturally attracted to and like. In the past, one of the most difficult tasks to do in halter is to get "Rose" to trot. Not for Sean. A simple "let's go Rose, TROT", and off into a perfect little trot they would go. Not wanting to be left behind, this motivated Jake to perform to his very best. Once again, Jake made it into the furthest levels in every class he entered. We were thrilled to have several breeders we infinitely respect comment on the quality, temperament, and movement of this young pony.
Besides having all the family participate in this show, and the wonderful successes we had, likely one of the coolest things to happen was watching Megan get asked to assist the Alvesta Farm with showing their ponies in the championship classes. We have always loved these ponies, and the Podolski family are some of our favourite people. Not only did Megan get to help them show, she showed the pony that ended up DOUBLE SUPREME CHAMPION of the show! Talk about a dream come true .... no, the pony did not come home to DreamTime Welsh with us, but certainly not for the lack of Megan trying!
March 1, 2012
Well, time has certainly been flying by with way too few updates on the website, so here goes!
In looking back at our website, we noticed that we had not condensed the 2010 Show Season in our news section. Given how fantastic our ponies did, we wanted to post the final results here. A huge thank you to our webmasster Daventry Web Productions, who always keeps the individual show results up-to-date, regardless of how many news items we update. For 2010, the final prizes for DreamTime Welsh were:
Woodwind's Shadowfax:
2010 National Junior Hunter - 7th Place
2010 National Junior English Pleasure – 5th Place
2010 National English Equitation – 6th Place
2010 Western Regional Championship – Jr. Hunter – 4th Place
2010 Western Regional Championship – Jr. English Pleasure – 4th Place
2010 Western Regional Championship – Jr. English Equitation – 5th Place
2010 Alberta Provincial Champion Junior Hunter
DT Mr. Snaps:
2010 National Champion Welsh Section C/D Colt
2010 Western Regional Champion Welsh Section C/D Colt
2010 Alberta Provincial Champion Welsh Section C/D
Goldhills Toffee:
2010 National Champion Welsh C/D Mare
2010 Western Regional Champion Welsh Section C/D Mare
2010 Alberta Provincial Champion Section C/D Mare
DT A Golden Charm:
2010 National Championship Welsh Section A Filly – 5th Place
September 7, 2011
Well, time has certainly been flying by with way too few updates on the website, so here goes!
The 2010 Show Season was a great one for DreamTime Equestrian. Thanks to our webmaster Daventry Web Productions, all of our show results, Provincial and National Awards were kept up-to-date throughout the year. The final prizes for DreamTime Welsh were:
Woodwind's Shadowfax:
2010 National Junior Hunter - 7th Place
2010 National Junior English Pleasure – 5th Place
2010 National English Equitation – 6th Place
2010 Western Regional Championship – Jr. Hunter – 4th Place
2010 Western Regional Championship – Jr. English Pleasure – 4th Place
2010 Western Regional Championship – Jr. English Equitation – 5th Place
2010 Alberta Provincial Champion Junior Hunter
DT Mr. Snaps:
2010 National Champion Welsh Section C/D Colt
2010 Western Regional Champion Welsh Section C/D Colt
2010 Alberta Provincial Champion Welsh Section C/D
Goldhills Toffee:
2010 National Champion Welsh C/D Mare
2010 Western Regional Champion Welsh Section C/D Mare
2010 Alberta Provincial Champion Section C/D Mare
DT A Golden Charm:
2010 National Championship Welsh Section A Filly – 5th Place
April 1, 2010
DreamTime Welsh is very excited to announce the newest member of the equine family has arrived! Our Section C colt out of Young's Arrest That Flirt and Goldhills Brandysnap arrived at 11:53 pm on March 31, 2010. This lovely chesnut fellow is already racing around the paddock, keeping mom very busy in her attempts to keep up with him. We will post pictures and video as soon as the 'Little Man' has time to fluff up, so keep watching!
March 26, 2010
DreamTime Welsh is officially on foal watch! We are hoping to see the newest member of DreamTime Welsh any day now! We will keep you posted on the impending arrival – complete with photos as soon as possible!
March 6, 2010
We have decided to place our yearling filly 'DT A Golden Charm' on our sales list. This has been a hard decision, as we really love having Charm here. Her movement, markings and colour are going to truly allow her to stand out in the show ring! We have new photos of her on the Sales List page, and will have video coming shortly. Charm is an amazing little Section A filly. We will keep her in our show string until sold, so price may increase with training. If you are interested in Charm, have a look at her information, and contact us for further information!
February 22, 2010
It's almost time ...... if calculations are correct, somewhere during the last week of March, our Rose and Goldhills Brandysnap foal should make its appearance!! We are so excited for this cross, and our first Section C pony! We know for sure that we will be having a chesnut foal, as both parents are chesnut. The biggest questions will be if baby will inherit the fabulous white markings of her mother (along with the gorgeous platinum white mane and tail!), and which parent the new pony will move like. Both parents are stunning in the movement department, and if big sister Charm is any indication on what Rose produces, this is going to be a fabulous foal! Stay tuned for updates .... and photos of the new arrival!
February 22, 2010
DreamTime Welsh would like to thank the Alberta Welsh Pony and Cob Society of Alberta for the wonderful trophy and certificate Megan received for the Alberta Welsh Junior Sportsmanship Award for the 2009 show season. This is the second time Megan has won this award, and it was a true surprise to us that she was presented with this award. Thank you to Sheila McLelland for the beautiful trophy she donated for this Junior Award!
We would also like to thank the the Alberta Welsh Pony and Cob Society of Alberta for the certificate and rosette presented to Megan for Rose – she was Reserve Grand Champion Section A Mare for the 2009 show season! What a way to finish off a nice halter career with DreamTime Welsh!
A final thank you goes to the Welsh Pony and Cob Society of Canada for the certificate presented to Sean for his participation in the Leadline classes. This was a huge unexpected surprise for Sean, and he was most proud of his fancy new certificate!
February 2010
The middle of February brings the realization that Charm is almost a year old now! Officially registered, Charm's full name is DT A Golden Charm. Unfortunately, due to a delay in registering Charm, her show points were not counted. This was greatly disappointing as Charm held 4th place in the Section A Weanling division nationally and provincially! We were very happy with Charm's performance at the shows in 2009 in halter classes. Her strength definitely was in the Sport Pony Halter – where Charm placed above very nice 2-year-old ponies! The comments and feedback from fellow breeders, competitors and judges were absolutely fantastic. This little girl has a huge future in front of her!
We are considering selling Charm this year, so if you are interested, make sure you drop us a line and let us know. This fantastic moving filly should be going to a show home where she will shine for her new family!
Rose
After having a fantastic show season in July 2009, Rose finished the season with the Alberta Welsh Pony and Cob Society Reserve Grand Champion Mare! This was a nice and unexpected surprise for us!
We had decided early in 2009 that we would retire Rose from our show string following the 2009 show season. Rose is due to foal the second homebred DT foal this April – we are so thrilled that we will have one of only 3 Goldhills Brandysnap foals!! We will have the only Goldhill Brandysnap offspring in Canada, and the only Section C produced to date. If this foal is anything like either parent, it is sure to be a total stunner!
Toffee
The 2009 show season was a really good one for Toffee. Although she completed the year in 4th place Section D Mare in halter, Toffee seems to have finally stopped growing at just under 15 HH. This slow down in growth has finally started to allow Toffee to fill out, and really grow into her height. Toffee's super sweet, willing-to-please attitude is a wonderful attribute. Her great personality has truly made Toffee a family favourite here at DreamTime! We look forward to bringing Toffee out for the 2010 show season!
July 20, 2009
We are thrilled to hear that Foothills Ruby, a former sales pony from DreamTime Welsh (now residing in Illinois) is headed for her first rated dressage show in August. We wish Ruby and owner Gem the best of luck in the show!
July 2009
This weekend was the first of the three Welsh Pony and Cob shows in Alberta. What a great time we had! We were stabled with our friends at Daventry Farms, and had a few new faces to meet and spend time with. We were very pleased with our show results this time out. This year the show went with a 3-day format instead of the traditional 2-day format. With a lack of folks to help out with a broodmare and foal, I had to fall back on my daughter Megan. What an incredible job she did! With her showing our section A pony Rose, we had a first ever Reserve Grand Champion! Charm (our young filly) impressed us with her ability to adapt and show her stuff in the ring. Along with many wonderful compliments from several long-time Welsh breeders, Charm won a fourth and fifth place standing in the Sport Pony Foal and Yearling Class. We were completely shocked at this win, with 9 entries in total, and 8/9 being nice looking yearlings ... way to go Charm! This weekend was definitely a great one for our friends at Daventry Farms as well – with the help of two incredible young riders – Darcie Gwynne and Dalyce Gagnon, and Tracy Dopko as well – many, many wins were received in halter and performance classes. We were very pleased to see Goldhills Brandysnap earn a Reserve Supreme Championship this show – way to go guys! Our pony Rose was not competed under saddle this show, as she is just not quite ready for that with Charm still at her side. Daventry Farms kindly allowed DreamTime Welsh to 'borrow' their Welsh pony "Offside" for Sean's leadline class. What a great match that was! A huge thank you to Megan, Sean, Daventry Farms, Darcie and Dalyce for all of your help during the weekend. Your sportsmanship, kindness and excellent manners really made the weekend a fun one!
DreamTime Welsh is thrilled to announce that our pony 'Young's Arrest That Flirt' (otherwise known as Rose) is confirmed in foal to Goldhills Brandysnap!! The foal will be a purebred Welsh Section C pony – we know it will be a chestnut, just not sure if we will get the white stockings and flaxen mane and tail. This foal is due in April 2010, so make sure to check back for pictures. If the current foals from both dam and sire are any indication, this will be one amazing foal!
June 2009
After relocating to the Sherwood Park area several months ago, DreamTime Welsh has started to finally reap some of the benefits of this move. We were able to travel a short distance to attend a really nice horse show minutes from home. Megan borrowed "Offside", a Daventry Farms pony to ride a few English classes at the show. What a great match they made! There were several junior riders at this show, which certainly gave Megan some great competition in the show ring. It was easy to see Megan's new trainer is certainly helping her to improve her riding! Click here for clips of Offside and Megan.
June 2009
After much work, and a very long time, DreamTime Welsh finally brought our ponies home! It has been great to look out the windows and see our ponies munching in their pastures behind the house. With only a few weeks until the first Welsh Pony Show, there is going to be much to do! Our filly has proven to be a fantastic mover – better than we dared hope for. We are very excited to get her out to the shows and show off her wonderful movement!
May 2009
This month Tammy flew out to Lexington, Virginia with friend Tracy Dopko of Daventry Farms while Tracy judged the USEF Bonnie Blue National Horse Show. This was the first time the show has included the Welsh ponies and cobs, and what a great event it was! This Virginia Horse Centre calls 600 acres home, and is quite an impressive facility. It was very different to view a horse show through the role of the equine judge – who knew how long their days are! The added bonus was meeting and watching some of the well-known Welsh Breeders from the Eastern USA – including the very energetic Dr. Ruth Wilburn and Sally Ross Davis of Rollingwoods Farm and Paul and Cheryl Mayes of Mayes Show Ponies. What great competitors and breeders they all are! Thanks to Tracy at Daventry Farms for the opportunity to spend a weekend at such a fun event!