☆ Sales ☆

PROVINCIAL CHAMPION


1998 13.3 HH Grey Half Welsh Pony
After many months of searching, DreamTime Welsh finally found exactly what we were looking for in a new show pony. Casper is a wonderful pony for the DreamTime kids to learn to jump and compete in the hunter classes. This pony gives the word 'personality' a whole new definition!
It was interesting that after almost a full year of searching for a pony we should find ourselves with yet another Welsh pony. Our search criteria included a correct, good moving pony, suitable for a beginner child, with a solid background in jumping. Breed was not a consideration in this search.
Currently registered as a Half Welsh, Casper is in fact a purebred Section B Welsh pony, standing around 13.2 H. We are very eager to see him in the show ring for 2010 with the very quickly approaching show season! $5,000 + GST
Double Diamond Lucky Sunday
Double Diamond Final Copy
Pajon Gold Medalist
Pajon's Royal Legacy
Quorn Night Gypsy
Rosedale Flemenco
Quorn WamPum
Little Buckaroo's Bluebell
Gayfields Shades O'Blue
Findeln Blue Danube
Honor Pennant
Little Buckaroo's Carnation
Bowdell Buccaneer
Cui Matilda

NATIONAL CHAMPION


2010 Chestnut Section C Welsh Cob Gelding
For a very long time, DreamTime Welsh has had a great appreciation for the Goldhills Welsh bloodlines. To say we were thrilled when Goldhills Brandysnap arrived at Daventry Farms in Darwell, Alberta is quite an understatement!
We watched with great enthusiasm as the two offspring of Goldhills Brandysnap arrived in the USA. The first arrival was a stunning chestnut filly, Goldhills Gingersnap. A year later, a stunning black colt – CD Snapdragon arrived. Both cobs are beautiful, with the bone, type and substance we love, and both multiple U.S. National Champions. The only problem we had was our Section D Cob Mare, Goldhills Toffee is a half-sister to Goldhills Brandysnap, so unable to breed to him.
Having a true love and appreciation for Goldhills Brandysnap and seeing the beautiful filly we had out of our Section A mare, Young's Arrest That Flirt ("Rose"), we decided to cross her with Brandysnap. The result ... a fantastic chestnut colt DT Mr. Snaps! "Flash", as he is called at home, is an outstanding mover, with a wonderful personality to match. Flash spent his summer attending the Welsh Shows, behaving like he was born to be in the show ring. Most classes Flash had to compete against the mature stallions, but he did a great job in the ring! With Flash's incredible movement, very quick learning, type and bone, we are very excited to watch this boy grow and learn!
Click to see
Flash's Show Record
Goldhills Brandysnap LOM
*Okeden Taffy LOM/AOE/OD
Scole Morhys
Scole Sapphire
*Okeden Britannia LOM
Llanarth True Briton
Synod Ray
Young's Arrest That Flirt
Bengad Dombeya
Bengad Nepeta
Bengad Dianthus
Young's Happy Moment
Liseter Star Design
Young's Cameo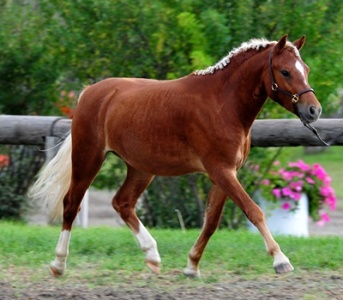 PROVINCIAL CHAMPION



2011 Chestnut Section C Welsh Cob Gelding
On June 6, 2011 we were thrilled with the arrival of our new Section C Welsh Cob – a full brother to DT Mr. Snaps, Alberta Provincial and Canadian National Champion Welsh Cob halter pony! This flashy youngster is everything we had hoped for, once again with the cross of our Section A Welsh Mountain Pony mare "Young's Arrest That Flirt" and the fantastic Welsh Section D Cob stallion "Goldhills Brandysnap". With a sire that has won the American Welsh Legion of Merit, three time American National Section D Champion in halter, and many wins in English and Western Pleasure, Carriage Driving, Ridden Cob, Trail and Hunter classes, as well as numerous Canadian titles to his credit, this colt definitely has a strong background of champions!
Jake is a lovely chestnut colt with a large star and 2 hind stockings, flaxen mane and tail. He is already showing the superb temperament and movement of both parents. We have great hopes for the future performance career of this young colt, and are very excited to watch him grow and mature. With so few Goldhills Brandysnap offspring, Jake is certainly one of a few very talented up and coming ponies!
Click to see
Jake's Show Record
Goldhills Brandysnap LOM
*Okeden Taffy LOM/AOE/OD
Scole Morhys
Scole Sapphire
*Okeden Britannia LOM
Llanarth True Briton
Synod Ray
Young's Arrest That Flirt
Bengad Dombeya
Bengad Nepeta
Bengad Dianthus
Young's Happy Moment
Liseter Star Design
Young's Cameo
☆ Past Sales ☆


2009 Flaxen Chesnut Sabino Section A Mountain Pony Filly
On March 15, 2009 DreamTime Welsh welcomed our first ever home-bred filly. This filly is everything we had hoped for! She is the spitting image of her dam – same colour and markings. In the movement department, Charm seems to have inherited the best from both parents! We hope to post new pictures and video of Charm in the days to come, so stay tuned! Charm will be retained and added to our show string for 2009. We look forward to seeing this little lady grow, and are very interested to see where her performance career might lead her in the future.
Congratulations to Silk Fox Farm in Florida on the purchase of Charm
Click to see
Charm's Show Record
Anderin's Caerwynn
*Trefaes Taran
Wynswood Little Acorn
Trefaes Tail
Liseter Capip's Cameo
*Revel Capip
Liseter Star Bonnet
Young's Arrest That Flirt
Bengad Dombeya
*Bengad Nepeta
Bengad Dianthus
Young's Happy Moment
Liseter Star Design
Young's Cameo


2000 15.1 HH Chestnut Section D Welsh Cob Mare
Ruby is from the Menai/Llanarth/Okeden bloodlines. Ruby is a very gentle natured mare, and likes to please. She's quiet, kind, an easy ride, goes in a snaffle and is suitable for a junior or adult amateur rider. Due to a very rough start in life, Ruby had to be completely restarted under saddle after buying her but has proved to be a very fast learner and quickly gained her trust in the rider's hands and seat again. She is now in professional dressage training. She has been shown successfully in-hand and started her under saddle show career in July. Ruby has produced two beautifully tempered cob colts to date.
Click to see
Ruby's Show Record
Wyvere Double Diamond
Winterlake Alexander
Brynarian Black Magic
Okeden Jolly
Madoc Katie Scarlett
Crossroads Valiant Flyer
Llanarth Mary Alice
Menai Clasur
Lyfni Erin
Tireinon Prince
Betty Gwennog
Menai Cwmpeini
Trefaes Spark
Menai Crugwen
May 2007:
We are thrilled to hear from Gemara, who purchased our cob mare Ruby last summer. Gemara purchased Ruby without ever seeing her, and recently emailed us to say:
Tracey, my trainer, is very pleased with her...she was very skeptical of my purchasing Ruby before she came and now she just expounds on what a good horse I have, especially now that she has ridden her for a week. She has jumped her and feels there is no reason why we can't start some showing this season...
Ruby did WONDERFULLY today on our very first trail ride.
We are thrilled to hear that Ruby has found such a wonderful home, and that the partnership with Gemara is working out so well. We hope to hear more of their adventures this summer, and how they do on the show circuit!



2004 Bay Section D Welsh Cob Mare
Cusan is a beautiful bay filly that spent her yearling summer travelling and competing at several horse shows. She has been grand champion on the line. Cusan has gorgeous welsh movement, with a phenomenal, floaty trot. She has a very promising future in the performance world. Cusan was part of the Welsh Demonstration Team for the Welsh Breed at the 2005 Masters Tournament at Spruce Meadows. She handled all of the excitement and activity like she had done it many times before! Cusan should mature at 15 HH.
Sold to Julie in Alberta - we wish them much success with their breeding program.
Foothill's Midnight Silhouette
Penrhyn Fascination
Okeden Sensation
Llanarth Meleri
Menai Super Dancer
Lyfni Erin
Menai Super Girl
Foothill's Amethyst
Wyvere Double Diamond
Winterlake Alecander
Madoc Katie Scarlett
Menai Clasur
Lyfni Erin
Menai Cwmpeini
May 2007:

We have learned that Cusan has been successfully bred for an early spring foal next year. This will be a Section C foal (Cusan was bred to a Section A stallion). We look forward to seeing this new addition to the cob world! Congratulations Julie